Risk Engineering
Risk Analysis and Reliability Engineering is a specialized discipline which allows for a holistic approach to mitigate and reduce risks, which can lead to a system failure or breakdown. These risks need to be identified, estimated and reduced to a level as low as possible.
Our service spectrum encompasses organisational, business, project and safety risk management, across all levels within industry, government and the commercial sector. We assist clients in the development of optimal strategies for the minimisation of risk in management and operations, by focussing on improving the reliability and effectiveness of controls and safeguards.
Our skills base includes both qualitative and detailed quantitative analyses. A consistent and proven set of risk management and engineering tools and approaches is used for risk and consequence effects analysis. We have the ability to cover the following areas of specialisation and expertise: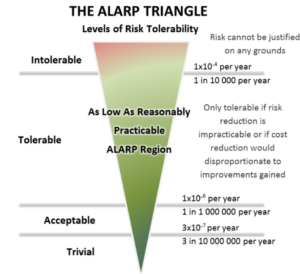 ALARP Triangle – HSE UK
Business, Organisational and Security Risk Assessments and Safety Management Systems Evaluation.
Evaluation of Human, Organisational and Cultural Factors within Risk Management.
Loss Prevention and Vulnerability Assessments.
Hazard Identification and Conducting Safety Audits.
Process Hazard Analysis (PHA); HAZID Workshop Facilitation / HAZOP Leadership.
Safety Case Development
Quantitative & Qualitative Risk Assessments.
Development of Safety Cases for Major Hazard Facilities.
Evaluation of Reliability and Maintainability, Risk Based Inspection of Equipment and Systems.
OH&S, Operational Risk and Dangerous Goods Assessments;
Job Safety Analysis.
Accident Investigation.
Environmental Risk Assessments.
Major and Catastrophic Event Management.
Risk Management Training.
Our Projects: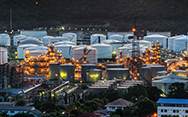 Expansion of Jet Fuel Tank Farms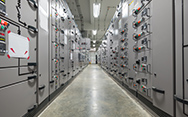 HT Substations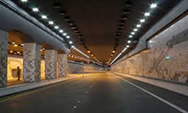 Al Salam Road Tunnel @ Abu Dhabi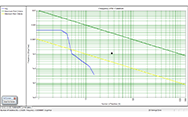 Societal Risks - FN Curves for Jet Fuel Tanks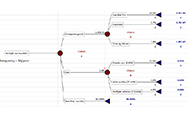 Event Tree Analysis